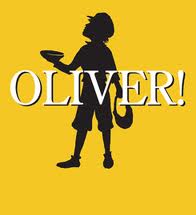 First time director Nancy Murphy has gathered a cast of talented citizens to unfold the tale for your enjoyment. She is assisted by....


Assistant Director, Terese Helberg,
Music Directors, Brittany Kamrath and Rachel Scheide,
Music Conductor, Amy Mutschler, and
Choreographer, Julisa Ricart.

Prescott Middle School student Danny Mutschler will play the title character, Oliver.
He is joined by Prescott resident and senior at Math and Science Academy in Woodbury
Charlie Fasbender as the Artful Dodger.
Long-time member of the Great River Road Theatre Mark Swan lovingly guides our young cast in their criminal ways in his role as Fagin.
Last year's players of "Bye Bye Birdie" Rachel Scheide and Mikaela Vogland team up again, playing sisters Nancy and Bet.
Maximilian Locher returns to the GRRT as the dangerous, dark character Bill Sykes
Other GRRT thespians include
Jim Scheide as Bumble,
Audra Mercord as Widow Corney,
Don Bauer as Sowerberry,
Mary Scheide as Mrs. Sowerberry,
Mikaela Vogland as Charlotte,
Josh Reis as Noah Claypole,
Ken Johnson as Brownlow,
Duane DuBois as Dr. Grimwig,
and long-time director at GRRT Judy Johnson as Mrs. Bedwin
At the heart of the show are Fagin's Pickpockets played by Kiley Jenson, Mackenzie Clymer, Birgitte Nelson, Isaac Miley, Madeline Johnson, Chancelor Mercord, Kyle Hildebrandt, Alejandro Ricart, and the lead actors Charlie Fasbender and Danny Mutschler.
Local musicians will comprise the orchestra accompanying the cast, along with Beth Ray on the piano.